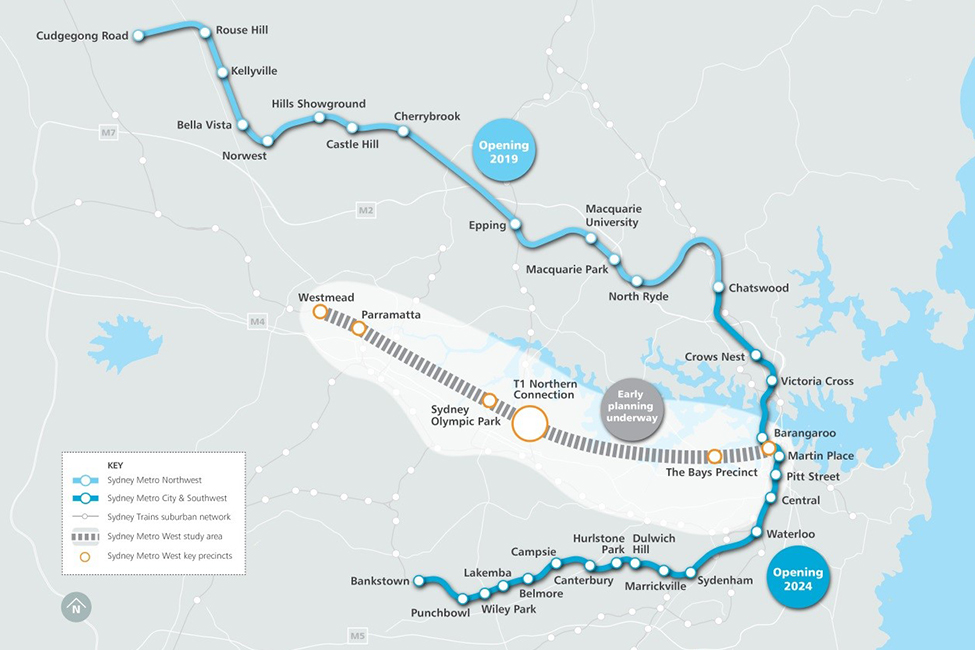 Sydney's Metro Project: What's it all about?
Sydney Metro is Australia's biggest public transport project.This new and stand-alone railway will deliver 31 metro stations and more than 66 kilometres of new metro rail, and it is expected that the project will revolutionising the way Australia's biggest city travels.It is planned that the Metro is forming the new generation of "world-class", fast, safe and reliable trains which will easily connect customers to where they want to go exactly when they want.Read on to learn more about the Sydney Metro Project and what it means for you.
When Sydney Metro is extended into the central business district (CBD) and beyond during 2024, metro rail will run from Sydney's booming North West region under Sydney Harbour, through new underground stations in the CBD and beyond to the south west.This is an excellent opportunity for all suburbs involved, especially outer suburbs, which will enjoy fast and efficient access the city.
The metro network will be fully segregated from the existing Sydney Trains network between Sydenham and Bankstown, improving the reliability of services on the line. Interchange between Sydney Metro and Sydney Trains at both locations will be provided, with improvements to station way-finding and signage.

According to the NSW Government, other benefits and features include:
• Safe and efficient connections during the peak and non-peak periods between key centres along the T3 Bankstown Line
• Fully accessible stations which includes lifts
• Further improved CCTV surveillance and platform screen doors
• An air-conditioned metro train every four minutes in the peak
• platforms level with train floors, minimal gaps between platforms and trains
• New or upgraded concourses and new station entries
• Far less time spent waiting due to higher frequency services
• Improved station interchange facilities
• Reduced travel times to key employment and education precincts
• New, direct and fast services to Martin Place, Barangaroo, North Sydney, Chatswood and Macquarie Park
• Interchanges to other rail services at Sydenham, Central and Martin Place.
As you can see, Sydney's Metro Project is shaping up to be an excellent opportunity for all involved. As public transport becomes even more accessible and convenient, Southwest and Northwest Sydney boast even more incredible opportunities. What does this mean for you?
As the project comes into shape, more and more people will be realising the potential of the Metro's surrounding areas. Imagine remaining close to the city with the highest quality transport services at your doorstep. As such, demand for land and houses will begin to increase. As demand increases so to will prices, especially when supply begins to run short. The Metro project is still underway, meaning that prices are at the lowest they have been in years. This is the perfect opportunity for anyone, including first home buyers, to purchase their dream home, only 40 kilometresfrom the CBD, yet totally affordable. With great land for sale all over Northwest Sydney and incredible land and home packages available From Vantage Luxe Homes, there has never been a better time to build and seize the opportunities the growing city of Sydney has to offer.
Are you interested in building your dream home? Contact My Vantage today to find how we can help you seize the opportunity presented by Sydney in the most affordable and luxurious way.